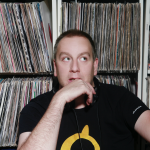 DJ Musician Producer
Max Doblhoff is an all rounder. He has been DJing for more than 20 years now, having started back in 1992.

As a drummer from 1987 – 1992 he turned to DJing in 1992 and loves to play diffrent music selections from his very big vinyl collection from the past & present groovy & funky club sound . Since then he never failed to impress his crowd with DJ sets which are a blend of Downbeat, Funky Breaks, Discoand Rare Grooves to Afro/Cumbia/Latin Beats & Groovy Deep Tribal and Tech House. He definitely loves to rock the prime time dancefloor with his pumping beats. Over the past 12 years he also promoting some of the hottest groove parties in Vienna. In 2005 Max and his friend Michael Schallmayer started a DJ/Live Band Crossover project called "VienaLoco" where Max plays behind the decks accompanied by different live musicians (such as transverse flute, talking drums, djembe, sax, guitars, vocals & guest musicians). Max founded his own label "Clubcruisemusic" together with Michael Schallmayer & Philipp Staufer and released his debut single "Bittersweet" produced by Doblhoff & Staufer in 2006. In 2013 Max & Sabastian Wiesflecker aka DJ Bastillo started their first studio cooperations and released their first Single EP "Tanz Schatzi" on Clubcruisemusic followed by the RMX "Hands up" feat Banda Westfalica on the German Label "Man Recordings" in 2014. His latest Release "Djemaa feat. Idd Aziz" hits the Radio Capital FM in Nairobi/Kenya 2015.
Max Doblhoff`s releationship to East Africa/Kenya started in 2003 when he first played a Live DJ set in the so called "Club Sikiliza" at Village Market Nairobi. DJ`s jaming with live musicians is Max Doblhoffs trademark. After inviting and jamming with some local musicians like Idd Aziz on Percussions & Marcy Mira on vocals supported by Funky George on Sax (Austria) , Stoney the Flute (Austria) we had 2 legendary bookings in Nairobi 2003 & 2004. The musical connection between Idd Aziz and East Africa never stoped. In 2015 Max came back to Nairobi and played a DJ Live set with Idd Aziz for New Years Fest at Mombasa where he met the whole music community of Santuri Safari and Makadem whoes last Afro House Release "Mgangan Mkuu" inspiried Max Doblhoff & Clubcruisemusic to work on special RMX Versions.
Max Doblhoff likes the groovy, funky club sound and provides a catchy handle for the listeners to hold onto as they pulled along. His productions show the deep-seated love of the music. Mostly analogue samples, coming from live recorded instruments are used whereas digital elements are reduced – giving the productions character & flair by the warm analogue sound.
SOUNDCLOUD: Music Releases, Rmx Work, Free Downloads & Live Recordings
MIXCLOUD: Mixtapes of my different live and dj gigs
YOUTUBE: get a taste &  enjoy my music videos 🙂
BANDCAMP: Name your Price and get my music
BOOKING CONTACT : Max Doblhoff (DJ Set/Live Set)
Max Doblhoff – Live:
ARVE Error: Mode: lazyload not available (ARVE Pro not active?), switching to normal mode

ARVE Error: Mode: lazyload not available (ARVE Pro not active?), switching to normal mode

ARVE Error: Mode: lazyload not available (ARVE Pro not active?), switching to normal mode

https://youtu.be/8A7Za9rMpz0
Max Doblhoff`s music videos:
ARVE Error: Mode: lazyload not available (ARVE Pro not active?), switching to normal mode

ARVE Error: Mode: lazyload not available (ARVE Pro not active?), switching to normal mode

ARVE Error: Mode: lazyload not available (ARVE Pro not active?), switching to normal mode

https://www.youtube.com/watch?v=PFyKIj1ZMfo
Music Releases

Mixtapes & Live sets

Press Pics: