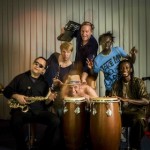 Electro Acoustic Live
Vienaloco is dedicated to 
Electronic Groove, Funk, Disco Afro Latin beats to Deep, Tribal House and Worldmusic. Combining acoustic and electronic elements makes the crowd crazy on the dance floor and is visible for the unique Sound.
The strength of the loco band lies in the improvisation talent of its musicians with many years of band experience. VienaLoco 'makes music in and for the moment – as diverse and colorful as the musicians themselves. No matter if Acid Jazz, Electro Funk, Hip Hop Breaks, Disco, Deep & Tribal to Afro / Latin / Cumbia rhythms … is served, deliver Max Doblhoff and his musicians excellent crazy food for the dance floors!
VienaLoco:
Max Doblhoff – Turntables, Drums/Percussion
Funky George – Sax/Flute/Clarinet
Stoney The Flute – Jazz Flute
Ibou – Djembe (Vienna/Senegal)
Sascha Strohmaier – Latin Percussion
Jürgen Jagfeld – Sax
Hannes Van Dam – Keys
Sebastian Wiesflecker – Turntables/Guitars
& guest musicians
ARVE Error: Mode: lazyload not available (ARVE Pro not active?), switching to normal mode

ARVE Error: Mode: lazyload not available (ARVE Pro not active?), switching to normal mode

ARVE Error: Mode: lazyload not available (ARVE Pro not active?), switching to normal mode

ARVE Error: Mode: lazyload not available (ARVE Pro not active?), switching to normal mode

ARVE Error: Mode: lazyload not available (ARVE Pro not active?), switching to normal mode

ARVE Error: Mode: lazyload not available (ARVE Pro not active?), switching to normal mode

El Pajaro – Vienaloco (EP/Vinyl Release)
ARVE Error: Mode: lazyload not available (ARVE Pro not active?), switching to normal mode

Bittersweet – Vienaloco (EP/Vinyl Release)
ARVE Error: Mode: lazyload not available (ARVE Pro not active?), switching to normal mode

Vienaloco – Live Recordings & Releases 
Press Pics:
Live Pics 2015:
Live Pics 2005 – 2010:
Vienaloco Flyer: