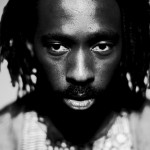 "The Voice of Africa" Band (Vienna Austria)
Karim Thiam aka MR. AMBASSADOR is a young african musician & multiinstrumentalist, who presents himself as VOICE OF AFRIKA and VOICE of peace, health and Integration without frontiers in the sense of HUMAN DIALOGUE.
Karim uses selfcomposed lyrics and covers themes like the harmony of life, protection of the environment and non-violence within his songs.The music of Karim is affected by his spirituality coming from his home country SENEGAL, MOURIDOULAHI-BAYEFALL-RELIGION.
 Karim Thiams first and upcoming Album "HUMAN DIALOGUE" is a musical cocktail, influenced by 5 continents, functioning as an international musical message to send across the whole world and to establish peaceful communication.
Karim Thiam: "My VISION for the whole world":
DON´T LET INSTRUMENTS OF WAR LEAD THE DIALOGUE BETWEEN HUMANS !
"LET MUSICAL INSTRUMENTS SET THE NOTE ! "
Music Style: 
Mbalax, Ethno Music, Acoustic, African Pop, Folk, Worldmusic, African 
Groove, Blues.
SOUNDCLOUD – PROMO & FREE DOWNLOADS
https://www.youtube.com/watch?v=p9fVAHfl5w8https://www.youtube.com/watch?v=TNKhMxHEeYM&feature=youtu.be
Facts:
1989-1999 education in school in Kaolack an Dakar
1996-2003 professional training as musician, dancer, choreograph at
The "Ballet international2Dakar Fambondy"
2000-2002 music-pedagogic-academic training at the conservatory of music in Dakar
2003-2005 employment at the "Theatre Ballet National Senegal Sorano"
2005-2006 acting job as musician and dancer, in the "Zirkus Mama Afrika"
in Germany, also commissioned as choreograph of a professional senegalese dancing group
2006-20013 acting job in the circus show of Andre Heller "Afrika Afrika"
Scope of functions: musician , choreograph, director of the sengalese folkloredance
International Tour: Seoul (south corea), Japan, Egypt, Algeria,Tunesia, Lebanon,
Maroc, South Africa, Spain, France, Italy, Swiss,Germany, Belgium, Netherland,
Austria: Austria-Music-Award-Publikumspreis 2014, Vienna with "African Jazz Spirit" Jazzmix with African folk instruments
Instruments:
Sabar
Tama (Talking Drum)
Vocals
Doundoun
Djembe, Xalam, Acoustic Guitar, Dance
PRESS PICS: