MAMA JO featuring Idd Aziz was already published in February 2016 as the second single release from Max Doblhoffs debut album AFRICALA on the Viennese label Clubcruisemusic. Since then the song has been played by many DJ`s and has got airplay support on the Austrian Radiostation FM4.
The song is a felicitous mélange of analogue and electronic sounds, coming from live recorded instruments like kalimba, african percussions, bass, drums & guitars are used whereas digital elements are reduced giving the production character & flair. It is very catchy and makes you happy immediately!
Now two giants of house music have done their reinterpretation of MAMA JO as a summer special remix. Stefan Obermaier, a musical all-rounder from Salzburg, has created a fantastic Clubmix with his deep underground style. Basti Grub, a master of the German minimal Tech House scene from Frankfurt, reconstructed MAMA JO to a dulcet late night summer tune. And what a break!
Enjoy this musical journey to Electro Acoustic Tribal & Afro Club House !
Remix work & supported by:
Stefan Obermaier http://www.driftrecordings.com
Basti Grub http://www.hoehenregler.com
Mastering by Sanhaji Mastering: http://www.briansanhaji.com/
Watch the official MUSIC VIDEO on Youtube!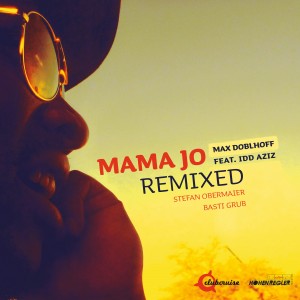 Musicians recorded on this production:
Idd Aziz – vocals (Nairobi/Kenya)
Sebastian Wiesflecker – guitars (Austria)
Ba Ousmane percussion (Senegal)
Max Doblhoff – kalimba, percussions, electronics (Austria)
Helio De Vanimal beatbox (Mozambique),
Julian Hruza (Synths)
Produced, composed, recorded & arranged by: Max Doblhoff
For booking requests contact:
Max Doblhoff featuring Idd Aziz (Live/DJ set)
max@clubcruise.at
Artist Profile: http://www.maxdoblhoff.com
Label contact: http://www.clubcruisemusic.com