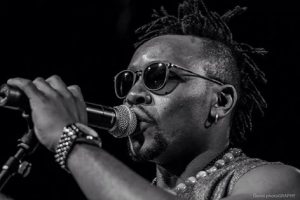 Vocalist & Percussion Player (Nairobi / Kenya)
Idd Aziz style combines World sounds with deep African roots into a form of Afro-fusion music. His combination of the expressive, compassionate and soulful music creates a unique sound for the musical market worldwide. Idds passionate, cultural music has influenced great diversity in his vocal style coming from deep place within his heart and can be felt clearly by any listener.
Kenyan born Idd Aziz is completely dedicated to become one of the most empowered and awakened male vocalists possible.
His passion for music begun at the early age of 13 and followed with a world tour at the age of 15! Inspired by his father, Idd Aziz has been placed on this planet to inspire positive change and awakening through his music and performances. His musical style is reminiscent of Lokua Kanza ,Youssou N'Dour and Ismael Lo all rolled into one. 

Based in Tronheim, Norway, Idd Aziz has reached a point in his musical growth where he is ready to share his knowledge and talents with others to create an awakening of like-minded upcoming musicians. He understands that a great way to uplift society is through quality conscious music. He has spent most of his life training for this.
Idd Aziz plays the guitar and the flute, along with a variety of African percussions. As a singer and songwriter, Aziz has worked with well known artists, including Henning Siumaro and Trondheim Orchestra, just to mention a few.
Idd Aziz appears live with a full band or smaller ensemble at music & art festivals, benefit concerts, community centers, private parties and gatherings. He recently performed at FAFA 2014 Gala Show in Nairobi, Kenya. He has also played with such noted musicians as Angelique Kidjo , Salif Keita , Alpha Blondy and Youssou N'dour.
get a taste of Idd Aziz and Max Doblhoff – live 
Africa La – Album tour 2018