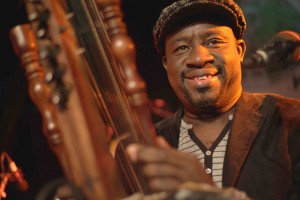 Kora Player & Vocalist (Dakar/ Senegal)
Author-composer, arranger, singer, percussionist and virtuoso of the kora, Abdoulaye Cissokho aka Baboulaye Sissokho trained at the school of tradition, then at the conservatory and Daniel Sorano. Coming from a large family of Mandingo griot musicians and singers from eastern Senegal, Baboulaye Cissokho is also open to other musical styles such as afro-jazz, afro-pop, afro-folk and Brazilian music.
A family of artists
His father, Cissokho Banna, was a player Kora – virtuoso of the traditional lyric together Daniel Sorano in Dakar. His brothers, authors, composers and players of Kora emeritus, are behind the creation of the ensemble Bannaya family: Diabel Cissokho, Elage Noumoukunda Cissoko, Baboulaye Cissokho, Fa Cissokho Kawding Cissokho Cissokho Baka … What his sister Mariétou dialy Cissokho, she in the Following in the footsteps of his mother Fatou Sakho, is defined as a worthy successor Maa Hawa Kouyaté, large Mandingo diva comes from Guinea Conakry.
Coperations
Kora – Player of Distinctive Lyrical Together Daniel Sorano in Dakar Baboulaye visited many countries (France, Austria, Spain, USA …) and pushed his fine lines Kora in the music of various artists, hard disk or on stage: Ndiaga Mbaye ("Naniou Mougne "- 1996), coumba gawlo (" Pata Pata "- 1998 – gold and platinum), Gilberto Gil (Brazil), Youssou N'Dour (" Sant Allah "/" Egypt "- 2004), Omar Pène & super Diamono, Pape & Cheikh Leonie (Dutch singer), Edith lettner African Jazz & Spirit, Africa La – Album Lounge – Max Doblhoff,… He also worked on "Africa Africa"! (2005), a show producer, cultural manager, author, actor and songwriter André Heller Austrian. "Africa! Africa! "The choreography of the dancers George Momboye (Ivory Coast), has been presented over 400 times on various stages, with more than four million viewers links to Baboulaye Cissokho (Senegal):
Booking contact – max@clubcruise.at
get your taste and listen to Saba Bo – Max Doblhoff feat. Baboulaye Cissokho
Saba Bo – Idd Aziz & Max Doblhoff feat. Baboulaye Cissokho